https://magazine.avocadogreenm...
To access the training click HERE
How nursing in WA is recovering from staff shortages and pandemic burnout
June 26, 2022 at 6:00 am
https://www.seattletimes.com/s...
Creative solutions
While most health care systems in the state still grapple with day-to-day burnout, some new long-term solutions are in the works.
Chelene Whiteaker, senior vice president of government affairs for the state hospital association, spent much of the past year advocating for new policies to boost health care education and alleviate staffing strains.
Meanwhile, health care labor unions last year pushed for hospitals and other care facilities to do more for their staffers, like ending mandatory overtime policies and offering retention bonuses.
During this year's session, Washington lawmakers made a series of moves to address health care challenges, including adding 220 new nursing education slots at the University of Washington and in community colleges and introducing a new bachelor of nursing degree at Eastern Washington University.
Lawmakers also funded Gov. Jay Inslee's hospital staffing initiative, incentivizing long-term-care facilities to take more patients ready to be discharged from the hospital and establishing more than 200 more nursing home beds.
"It's a good starting point," Whiteaker said.
New education programs are also popping up throughout the region, including one at Providence Mount St. Vincent in West Seattle.
The Mount this year received state approval to create its own four-week certified nursing assistant program.
"It's a great way to get exposure in a way that's safe and supportive," said Kayett Asuquo, director of clinical facilities at Providence. "After that, they're guaranteed a job as Providence employees."
In January, UW's School of Nursing also added a externship program for students interested in long-term care, sending them into nursing homes and other facilities to give them a taste of a non-hospital environment.
Program leaders are hoping the experience will renew interest in long-term care jobs, a particularly difficult corner of health care during COVID because older adults were at a higher risk of getting severely sick.
"There was a mass exodus of long-term care jobs during the pandemic," said Tatiana Sadak, who's leading the UW program. "Those jobs became impossible."
The new programs are finding some early success, though. This year, six students signed up for the pilot version of UW's long-term care externship. Next year's program has already enrolled 14."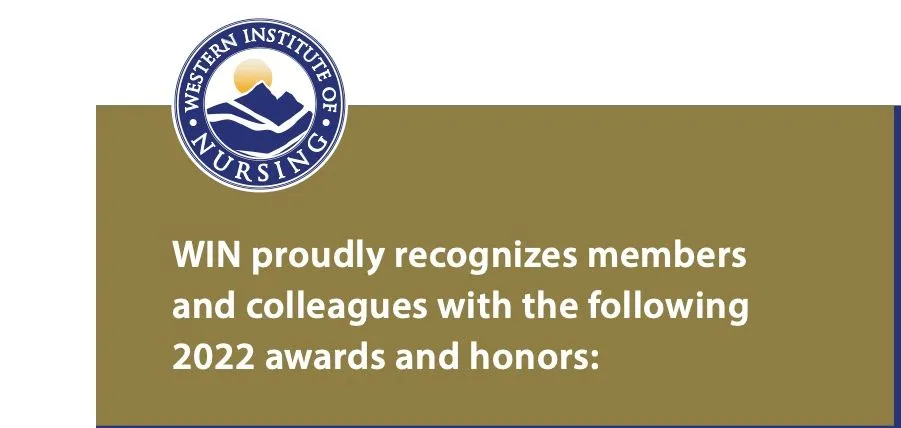 https://www.winursing.org/wp-c...
Dr. Sadak named one of UW Experts: https://www.washington.edu/news/people/tatiana-sadak-2/
Dr. Sadak's team that is developing a Long Term Care externship has been featured in this news segment
https://www.q13fox.com/news/new-program-at-uw-school-of-nursing-to-send-students-to-work-at-long-term-care-facilities
Please click hereto read the blog that describes University of Washington School of Nursing dementia related initiatives lead by Dr. Sadak.
Please click here to read the Alzheimer's Association of WA blog that features University of Washington dementia related initiatives lead by Dr. Sadak.
Starting a conversation with our loved ones and family members in regard to their long-term and future health planning can bring up mixed feelings. If you've never approached this type of conversation before, you may not know where to start. We spoke to geriatric and family health experts from UW, and they answered our questions on how to prepare yourself to begin these conversations, and what to expect. Highlighted below are main takeaways from the following experts: Emily Ishado, research coordinator at the UW School of Nursing Dr. Susan McCurry, research professor at the UW School of Nursing Dr. Tatiana Sadak, associate professor at the UW School of Nursing Dr. David La Fazia, lecturer at the UW School of Social Work.
Please click here to read the recommendation.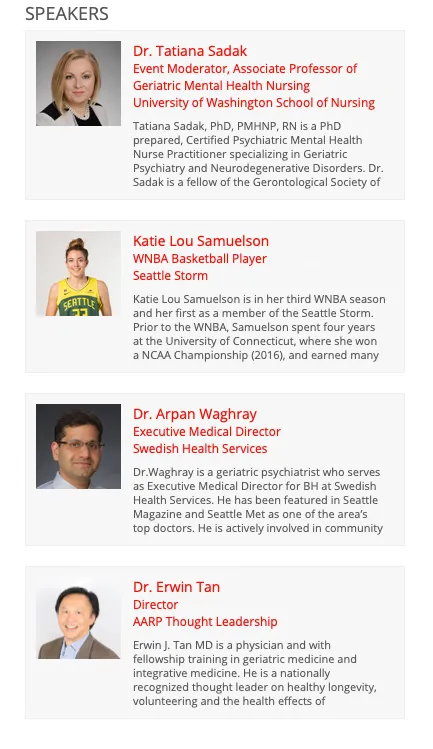 Click here to watch the event
https://www.q13fox.com/news/fu...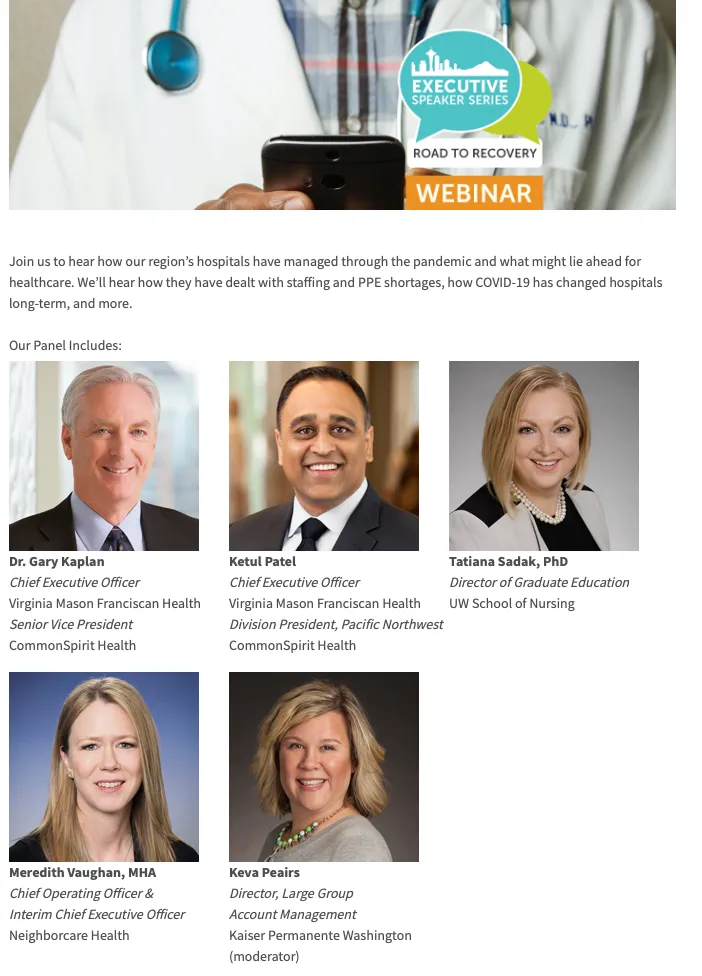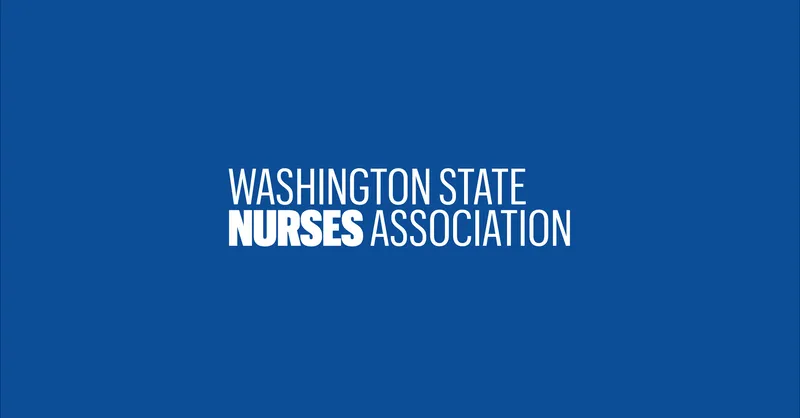 Dr. Sadak have been selected as the Washington State Nurses Association's 2021 recipient of the Professional Nursing and Health Care Council Nurse Educator Award. This award recognizes excellence in promoting the education of nursing students/nurses, fostering an environment that promotes and supports diverse learners.
https://www.wsna.org/washingto...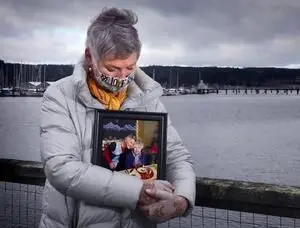 'Losing precious months': What isolation and lack of touch mean for Washington residents with dementia and their families'
https://www.seattletimes.com/s...
Here is a link to this inspiring webinar : https://impact.nursing.uw.edu/nightingale-leadership-series/
Dr. Sadak was named a 2020 Fellow of the American Academy of Nursing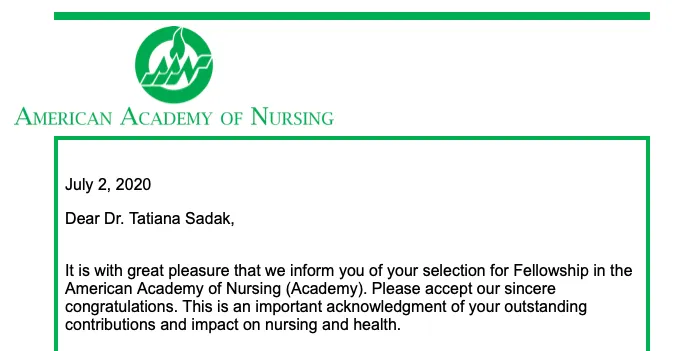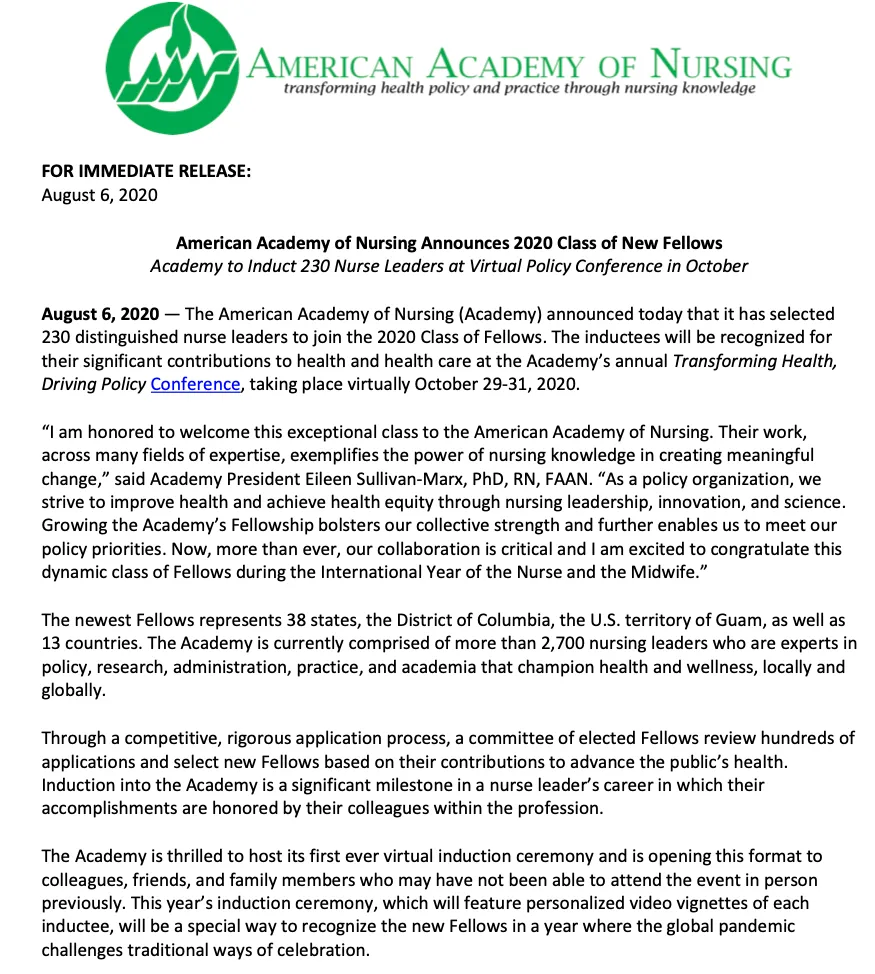 Press release. June 2020.
The Macy Faculty Scholars Program is designed to identify and nurture the careers of promising educational innovators in medicine and nursing. We select up to five faculty leaders each year. Macy Faculty Scholars receive salary support up to $100,000 per year over two years to implement an educational change project in their institution. Scholars also receive mentoring and career advice from our National Advisory Committee.
Tatiana Sadak, PhD, PMHNP, ARNP, RN
UNIVERSITY OF WASHINGTON SCHOOL OF NURSING
Tatiana Sadak is an associate professor, director of undergraduate nursing education, and an experienced geropsychiatric nurse practitioner at the University of Washington (UW) School of Nursing. She is a pivotal member of the Dementia Action Collaborative, which is charged with developing and implementing a plan to address Alzheimer's disease and related dementias in the state of Washington, and a Fellow of the Gerontological Society of America. She has been named a Distinguished Educator in Gerontological Nursing by the National Hartford Center of Gerontological Nursing Excellence. Her mission is transforming nursing profession by teaching dementia-specific competencies across the full arc of professional development.
As a Macy Faculty Scholar, Dr. Sadak will create and implement an innovative interprofessional educational program for undergraduate nursing students that focuses on cultivating dementia expertise and preparing students to assume leadership roles in team-based outpatient dementia care.
Brenda K. Zierler, PhD, RN, FAAN, Professor of Biobehavioral Nursing and Health Informatics at the UW School of Nursing and Director of Research and Training at the Center for Health Sciences Interprofessional Education, Research and Practice (CHSIE) at UW, serves as Dr. Sadak's mentor.
Press release . May, 2020.
Psychiatric Wellness and Dementia Care, LLC has been selected as the Winner for the 2020 Best of Lynnwood Awards in the category of Counseling & Mental Health. The Lynnwood Award Program was created to honor and generate public recognition of the achievements and positive contributions of businesses and organizations in and around Lynnwood. Our mission is to raise the profile of exemplary companies and entrepreneurs among the press, the business community, and the general public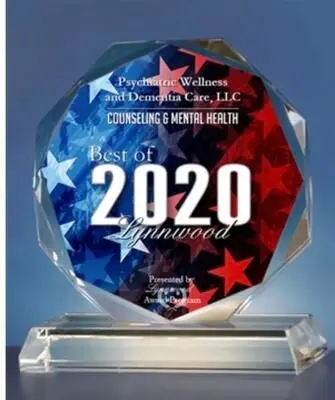 2020, WA State TV Interview.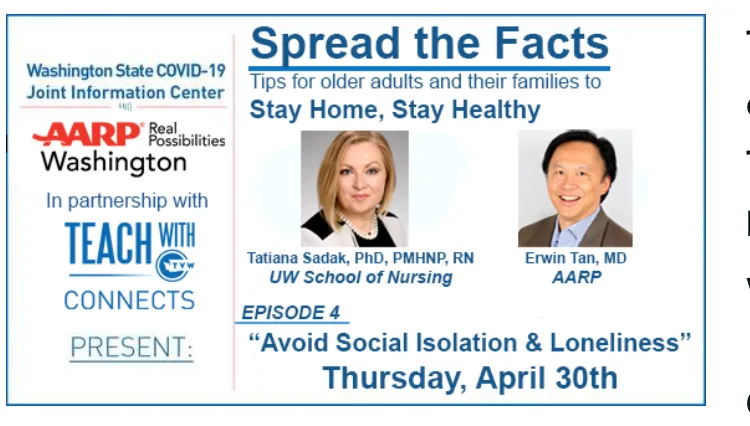 Teach With TVW (this page includes links to resources):
http://www.teachwithtvw.org/te...
YouTube:
2020, Reaching out to isolated older adults is essential during coronavirus – here are 7 specific things you can do, just for starters.
The Conversation. Drs. Belsa. Souza. Sadak.
https://theconversation.com/re...
2020, NPR KUOW Interviews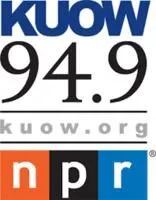 What isolation can do to our brains — and our lifespans
2019, Dr. Sadak received Rasmussen, Marilee Endowed Professorship, University of Washington School of Nursing, Seattle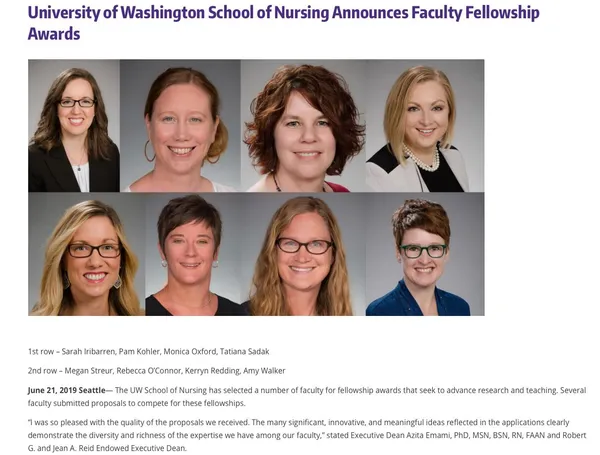 https://nursing.uw.edu/article...
June 21, 2019 Seattle— The UW School of Nursing has selected a number of faculty for fellowship awards that seek to advance research and teaching. Several faculty submitted proposals to compete for these fellowships. "I was so pleased with the quality of the proposals we received. The many significant, innovative, and meaningful ideas reflected in the applications clearly demonstrate the diversity and richness of the expertise we have among our faculty," stated Executive Dean Azita Emami, PhD, MSN, RNT, RN, FAAN and Robert G. and Jean A. Reid Endowed Dean. The inaugural Dean's Fellowships for Priority Initiatives (supported by the Marilee Rasmussen Endowed Fund for Nursing) support work that advances one of the many initiatives of the school. Fellowships was awarded to:
Tatiana Sadak , PhD, PMHNP, RN, will develop Global Baccalaureate student exchange opportunities, expand nursing training in ambulatory and geriatrics care, and create a nurse-run dementia clinic.

2019, Dr. Sadak was named Distinguished Educator in Gerontological Nursing Excellence
https://www.nhcgne.org/leaders...
Given the rapidly growing older adult population and the urgent need to prepare the future nurse workforce to care for an aging population, it is imperative to have well-prepared nurse educators not only with knowledge and skills in care of older adults, but also with teaching competence so that they can foster positive attitudes toward older adults and actively engage learners at all levels. The Distinguished Educator in Gerontological Nursing Program (the Program) is a Hartford initiative that aims to recognize the leadership of nurse educators working with students, faculty, providers, and older people in diverse settings.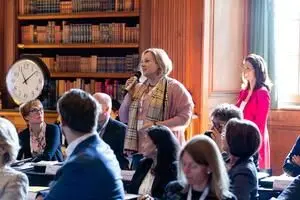 2019, Dr. Sadak was selected to participate in the Global Dementia Forum that sets world-wide dementia priorities.
Dementia Forum X is a global initiative founded to take action on dementia. It is a day of reflection and discussion between a hundred of the world's leading business executives, policy-makers and other stakeholders. Dementia Forum X paves the way for high-level dialogue on the challenges that age-related demographic changes and dementia pose to societies, individuals and healthcare systems alike to forge a more effective global response in meeting them. The 3rd Dementia Forum X will take place at the Royal Palace of Stockholm on May 15th 2019. Video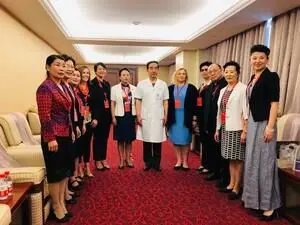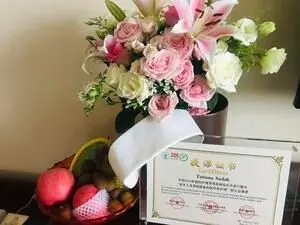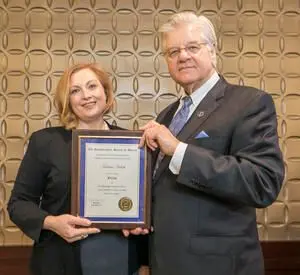 2019, Dr. Sadak was invited to deliver a Keynote Address at the opening of the forum of International Nursing Managment Summit in Beijin China.
2018, Dr. Sadak Inducted as a Fellow In The Gerontological Society of America
The Gerontological Society of America (GSA) — the nation's largest interdisciplinary organization devoted to the field of aging — has named exemplary professionals as its newest fellows. The status of fellow — the highest class of membership within the Society — is an acknowledgment of outstanding and continuing work in gerontology. This recognition can come at varying points in an individual's career and can acknowledge a broad scope of activity. This includes research, teaching, administration, public service, practice, and notable participation within the organization. Fellows are chosen from each of GSA's four membership sections.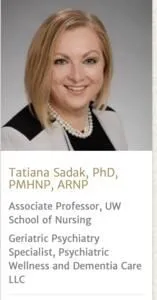 2019, Dr. Sadak Received Affiliation with The University of Washington Alzheimer's Disease Research Center (ADRC)
The UW ADRC, established in 1985, is in its 33rd year of continuous funding by the National Institute on Aging (NIA). Our researchers conduct genetic and clinical research in neurodegenerative disease, guided by the ultimate goal of precision medicine treatments and improved clinical care. Please visit the UW ADRC website: uwadrc.org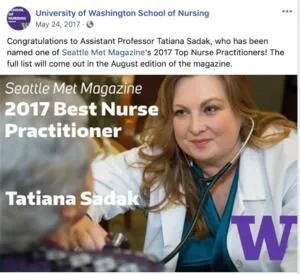 2017, Selected as Top Doctor, Nurse Practitioner in Geriatric Psychiatry
Seattle Met partnered with the Professional Research Services survey company to poll health care practitioners licensed by the Washington State Department of Health in King, Snohomish, Kitsap, and Pierce Counties, asking, "If you or a loved one needed care, whom would you choose?" Voters nominated their most esteemed peers based on years of experience, competency, rapport with patients, patient satisfaction and compliance with care recommendations, and ability to work effectively with colleagues across specialties to deliver the best patient care. The top vote recipients were vetted with the DOH to ensure good standing before inclusion on the list, which is excerpted here alphabetically by specialty. Suite numbers have been omitted and practice names have been abbreviated for space; suite numbers and full practice names can be found in our interactive database . This list of Top Doctors, Physician Assistants, and Nurse Practitioners should be viewed as just one of many resources to consult when seeking the best care.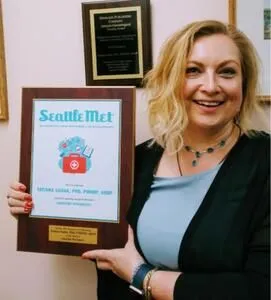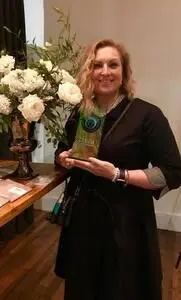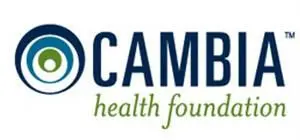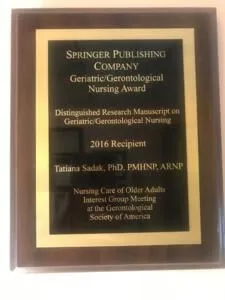 2017, Dr. Sadak Selected as a Cambia Health Foundation Sojourn Leadership Scholar for Advancing Palliative Care
Elite group of physicians and nurses demonstrate strong leadership potential and commitment to expanding palliative care. The Cambia Health Foundation has announced the acceptance of 10 new physicians and nurses into the Sojourns Scholar Leadership Program , the Foundation's signature program to develop emerging palliative care leaders. With this new cohort, Cambia has now committed $7.2 million to cultivate 40 Sojourns Scholars from across the country who are working to advance palliative care. The Sojourns Scholar program addresses a critical workforce development need and supports access to palliative care services. Addressing these issues requires leadership, and by creating the Sojourns program, the Foundation has taken an active role in shaping the future.
2016, Dr. Sadak Received Award for a Distinguished Single Research Manuscript
Dr. Sadak received a SPRINGER PUBLISHING COMPANY Geriatric/Gerontological Nursing Award for a Distinguished Single research manuscript addressing Geriatric/Gerontological Nursing. This award is made to a gerontological nurse researcher for a single published work which in the opinion of the reviewers reflects outstanding scholarship with the use of a comprehensive methodology to study a particular gerontological nursing problem, the results of which have the potential to improve the care of older adults. The award was presented at the Nursing Care of Older Adults Interest Group Meeting at the Gerontological Society of America meeting in New Orleans on November 18th by Sheri Sussman Editorial at Springer Publishing Company.
J Appl Gerontol. 2016 Jul 5. pii: 0733464816657472.
Managing Your Loved One's Health: Development of a New Care Management Measure for Dementia Family Caregivers.
Sadak T, Wright J, Borson S.