Harvard Medical School Review: Clinical applications of herbal medicines for anxiety and insomnia; targeting patients with bipolar disorder
Ji Hyun Baek, Andrew A Nierenberg, Gustavo Kinrys
https://doi.org/10.1177/0004867414539198
DISCOUNTED SUPPLEMENTS
If you are a patient, please ask Dr. Sadak ( [email protected] ) to send you an email invitation to Wellevate - an on-line medicinal food and supplement dispensary that offers significant savings on high quality products.
You will receive an invitation to set-up Wellevate Patient Account and will be able to browse all products and disease/health condition specific protocols and recommendations designed by Dr. Sadak and recommended specifically for you. https://wellevate.me/tatiana-sadak
You can access Wellevate Patient Guide here
-----------------------------------------------------------------
COMPLETE VEGAN PROTEIN
Click Here to purchase protein products with significant discount.
Please ask Dr. Sadak ( [email protected] ) to send you a coupon code. https://www.nuzest-usa.com/ref/477/
Tatiana's personal favorite are FUNCTIONAL FLAVORS, great additions to coffee, tea, smoothies.
Vanilla Matcha: Pea Protein Isolate, Matcha Green Tea Powder, Vanilla Flavor Natural, Thaumatin.
Chai Turmeric + Maca : Pea Protein Isolate, Turmeric Powder, Chai Flavor Natural, Organic Maca Powder, Cinnamon, Powder, Black Pepper Powder, Thaumatin.
Coffee Coconut + MCTs : Pea Protein Isolate, Coconut Flavor Natural, MCT Powder, Vanilla Flavor Natural, Coffee Powder, Thaumatin, Coffee Flavor Natural
Nuzest
Our unique formulas are some of the most advanced nutritional supplements on the market – every ingredient, and every form of ingredient, is backed by a sound scientific rationale. Our formulas are regularly reviewed and improved upon to ensure Nuzest products are always aligned with the most up to date research and information. So welcome to Nuzest – and a new approach to feeling great.
Our Philosophy
At Nuzest, we believe in making good nutrition easy for everyone. We only use top quality, responsibly-sourced ingredients. In fact, we like to think that we make the kind of choices you'd make for yourself.
Knowledge about human nutrition is constantly evolving, so coming up with an effective formulation once and letting it run just isn't good enough. We challenge ourselves to continually improve our supplements so that we produce outstanding nutritional products – time after time.
We like to keep things real, so our products are based on real foods that are rich in nutrients and essential vitamins and minerals. Once sourced, these ingredients are carefully handled to retain all of their goodness. You can relax knowing that every batch of Clean Lean Protein, Quick Vita Kick, Good Green Snack bars and Just Fruit & Veg is independently tested before it gets to you.
All Natural, 100% Vegetable & Allergen Free
The world's highest source of plant protein – and it's Paleo friendly too!
Clean Lean Protein is allergen-free and great for the whole family. No gluten, dairy, soy, nuts or eggs. No fillers, additives or preservatives. No added sugar or artificial sweeteners. Just clean, lean, European Golden Pea Protein with delicious natural flavours.
Premium European Quality
100% European grown and processed Golden Peas
A 'Complete' Protein for Energy, Recovery & Repair
Contains all nine essential amino acids, plus many more
Healthy Weight Management. High in protein, yet very low in fat, sugar and carbs
Look & Feel Your Very Best. Protein is vital for every-body, every day
Easy to Digest & Absorb. Light on the stomach with a 98% digestibility rating
The Alkaline Advantage. With a pH of 7.8, Clean Lean Protein is one of the few alkaline proteins available.
Mixes Smoothly & Tastes Great! Quick and easy to blend, mix or bake in five delicious, natural flavors
Clean Lean Protein is the world's most effective vegetable protein. It's easy to digest, low in allergens and extremely low in carbohydrates.
----------------------------------------------------------------
FIBER
Tatiana's Favorite Fiber: https://shop.reset360.com/prod...
Easy-to-use fiber formula to support your gut health, regular bowel movements, and balanced gastrointestinal flora. Reset360 Daily Fiber makes it convenient to add high-quality fiber into your diet, which can help maintain healthy blood sugar and cholesterol levels, cravings, and weight management.*
Daily Fiber from Reset360 complements your daily shake. It's tasteless and easily dissolves, and helps support healthy hormone balance.*
Suggested Use: During first 7 days of supplementation add ½ scoop to shake or drink mix, increasing to 1 scoop per day on day 8, or as directed by your healthcare practitioner.
Other exceelent Fiber Suppliment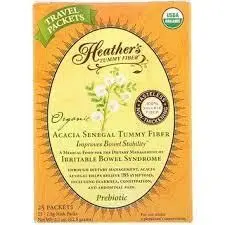 Heather's Tummy Fiber:
https://www.heatherstummycare.com/p/suplmts_acacia/tummy-fiber-acacia-senegal-pouch/?gad_cpid=222917904&gad_agid=64567672946&gad_adid=325008523424&gad_mt=e&gad_nw=g&gad_pos=&gad_kw=heather%27s%20fiber&gclid=CjwKCAjwg6b0BRBMEiwANd1_SLa8qJvBf2KywV2esMR6SLEJazwOfaOxKjsFBru_CGWYhknLj27l6xoCb9oQAvD_BwE
-----------------------------------------------------------------------------------------------------------------
Medicinal Foods in Psychiatry
Excellent Website that reviews research evidence for efficacy of several nutriceuticals:
https://www.alzdiscovery.org/cognitive-vitality/ratings
MEDICINAL FOODS FOR INFLAMATION.
Inflammation is implicated as an underlying cause of many psychiatric symptoms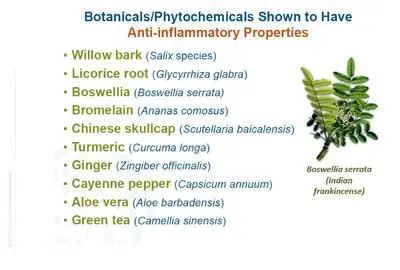 MEDICINAL FOODS FOR ANXIETY:

L- Theanine
Natural Support for Sleep, Mood, and Weight: Suntheanine® contains pure L-Theanine , a unique amino acid found in green tea that is emerging as the premier natural product to support mental calmness and relaxation. To learn more about L-Theanine click here .
This is also a very helpful website: https://www.alzdiscovery.org/c...
Lavela WS 1265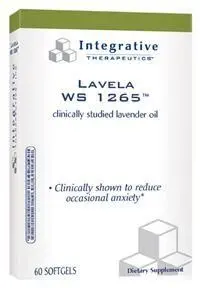 Lavela WS 1265 is an exclusive lavender (Lavandula angustifolia) essential oil, known as Silexan™. Indicated for occasional anxiety, Lavela WS 1265 has been shown to promote relaxation and calm nervousness with safety and efficacy, as demonstrated in controlled trials published in peer-reviewed medical journals. *1,2 Lavela WS 1265 is a powerful alternative to other available options. Lavela WS 1265 offers relief without the side effects commonly seen in other options. Taken just once a day, this gentle, yet powerful, essential oil is non-habit-forming and well-tolerated. Clinical trials and a comparative analysis suggest that the effects of Lavela WS 1265 compare favorably to other options. *1,3
- Safe and effective option
- Non-habit forming, non-sedating relief of occasional anxiety*
- Convenient, once daily dosing
1. Kasper S, Gastpar M, Müller WE, et al. Silexan, an orally administered Lavandula oil preparation, is effective in the treatment of 'subsyndromal' anxiety disorder: a randomized, double-blind, placebo controlled trial. Int Clin Psychopharmacol 2010 Sep;25(5):277-87.
2. Woelk H, Schälfke S. A multi-center, double-blind, randomised study of the Lavender oil preparation Silexan in comparison to Lorazepam for generalized anxiety disorder. Phytomedicine 2010;17:94-99.
3. Hidalgo RB, Tupler LA, Davidson JR. An effect-size analysis of pharmacologic treatments for generalized anxiety disorder. J Psychopharmacol 2007;21:864-72.
Tranquil Sleep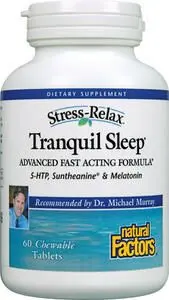 Natural Support of Sleep: About 1 in 5 adult Americans suffers from insomnia. Natural Factors Tranquil Sleep is a safe, fast acting formula containing: the amino acid 5-HTP; the hormone melatonin; and green tea's stress-reliever, L-Theanine. * Together these natural compounds exert a powerful synergistic effect to promote restful sleep.* 5-HTP can help you get to sleep faster and reduce nighttime waking.* Melatonin helps initiate sleep, and is used for jet lag and insomnia.* L-Theanine (patented Suntheanine®), from green tea, is a stress reducer that can enhance the tranquility of sleep.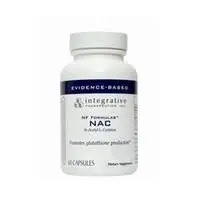 NAC (N-Acetyl Cysteine)
A pharmacological treatment for trichotilomania, skin picking and nail biting. A powerful antioxidant.
Click here to read an article about NAC
MEDICINAL FOODS FOR DEPRESSION
L-methylfolate , the active form of the vitamin, folate is the only folate that can be taken up by the brain where it helps balance the chemical messengers that affect mood (serotonin, norepinephrine and dopamine). To learn more about depression and the role of Folate Click here.
Deplin®
(prescription only, discuss with your clinician) and Optimized Folate (
click here
) to purchase over the counter - provide the body with the necessary nutritional support to make the brain a better "partner" to the antidepressant and support production of brain chemicals.
Supports emotional and mental well-being and moderates stress 5-hydroxytryptophan and l-tyrosine are key precursors for the synthesis of several neurotransmitters responsible for a healthy emotional outlook, including serotonin, dopamine, epinephrine and norepinephrine. These neurotransmitters are involved in the regulation of endocrine and brain activity in addition to sleep/wake cycles. Research suggests that l-tyrosine may also promote cognitive function and memory under stressful conditions. A healthy level of the inhibitory neurotransmitter GABA is also associated with promoting positive mood. Research suggests that both GABA and l-theanine enhance alpha wave production in the brain, promoting relaxation. Complementary support for relaxation is provided by passion flower, while Rhodiola rosea supports cognitive and mental function under stressful conditions. Vitamin B 6 is a cofactor that plays an important role in supporting positive emotional health. Emotional Wellness combines amino acids, herbs, and vitamin cofactors to promote healthy emotional well-being and cognitive function while moderating stress. To learn more please click here.
NUTRIENTS DEPLETED BY PRESCRIPTION MEDICATIONS
You can enter your prescription medications into this calculator and learn what nutrients are depleted by your medications, what are the symptoms of this nutrient depletion and what foods and supplements you may need to add to your diet.